Menjangan Dynasty Resort, Beach Camp and Dive Centre, Opens in Northwest Bali
31 August 2016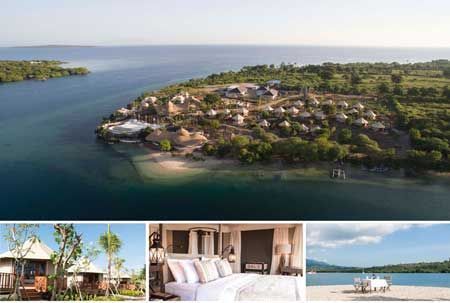 Prime Plaza Hotels & Resorts is pleased to announce the soft opening of 'Menjangan Dynasty Resort, Beach Camp and Dive Centre' – a much anticipated, tented boutique retreat, resting upon 16 hectares of land, beside a blissful white-sand beach lapped by the gentle waters of Banyuwedang Bay in Northwest Bali. Catering to outdoor adventure enthusiasts with an appetite for indulgence, the safari-style tented rooms and villas, combined with a series of magnificent communal spaces crafted in bamboo and 'alang-alang' thatch, present a refreshing alternative in architectural style and five-star flair. From here, visitors can enjoy a spellbinding vista that extends across a mangrove-entwined coastline to the lowland forests of West Bali National Park, taking in the tiny uninhabited Menjangan Island, the craggy folds of Bali Barat's north facing ridges and the towering Mt Raung in East Java. Delicious cuisine, intimate dining and the opportunity to interact with nature can all be enjoyed, supported by excellent service from a team of safari-suited staff. This eco-friendly tented resort, which is the first of its kind in Bali, is designed to blend with the environment and provide guests with a memorable and exciting, close-to-nature 'glamping' experience.
Accommodation at Menjangan Dynasty Resort comprises 24 Beach Camp Tents, 2 one-bedroom Cliff Tent Villas and 2 two-bedroom Cliff Tent Villas, created to the highest standards in South Africa from robust top-quality canvas. The cool air-conditioned interiors of the tents cleverly capture the ambience of the classic safari club style with glass doors, natural materials and muted colours harmonised with blackened steel elements. Each air-conditioned sleeping area is fitted with a merbau hardwood floor and furnished with a queen-size bed, a desk and a rattan-panelled wardrobe. Curtains and bamboo screens provide privacy, and accessories include goatskin rugs, driftwood lamps, a mini-bar-fridge encased in a packing trunk, a TV with international channels and DVD player, and a picnic hamper of bathroom amenities. Each Beach Camp Tent incorporates a bathroom area with a monsoon shower, as well as an open-air deck, while each Cliff Tent Villa has a separate bathroom fitted with a soaking tub, a sundeck and a private infinity pool. The romance of sleeping under canvas is coupled with the tranquility of the great outdoors, with each private deck furnished with daybeds and loungers. The 2-bedroom Cliff Tent Villas have the additional luxury of a sitting room lit by a glitzy wooden chandelier and furnished with a comfortable sofa and armchairs.
Equally striking – and in keeping with Menjangan Dynasty's concept of leaving only a green footprint – is the exceptional design of the Resort's lobby, beach club, spa pods, dive centre, multi-purpose wantilan, villa portes-cochères and multiple drinking-water stations. Designed by Richard Manser of Penjor Bali Mandira and inspired by the various architectural styles of the Indonesian archipelago, all of the open-sided structures are crafted in sustainable bamboo, showcasing flowing organic lines capped with soaring grass roofs and completed with gorgeous rustic furnishings and quirky features that meld with the beautifully landscaped gardens and spectacular surroundings. The stunning interiors of the Resort, from the lobby to the tents to the spa to the beach club, have all been orchestrated by Desmond James of Sourcing Bali.
Communal facilities include a 158 sqm cliff-edge infinity swimming pool, which at 3.3m deep also serves as a dive training pool. The Resort's signature Pasir Putih Beach Club, open to the public, incorporates a restaurant and bar, an open kitchen with French Food & Beverage Manager Philippe L'Obry at the helm, as well as a 32.5 sqm beachside swimming pool, flanked by bamboo cabanas and beanbags on the white-sand beach. The cliff-top Pasir Putih Spa tent, with its reflexology deck and private waterfront spa pods, offers glorious sunset views of Banyuwedang Bay and Mt Raung, while the multi-purpose bamboo wantilan pavilion, bordered by wedding lawns, is perfect for yoga and events. The 5-star PADI dive centre and watersports centre, operated by 'Bali Hai Diving Academy', offers scuba diving and snorkelling excursions to the splendid dive sites surrounding Menjangan Island as well as non-motorised watersports such as kayaking, canoeing and stand-up paddle boarding. Additionally, plentiful outdoor activities include trekking, cycling and mountain biking, birdwatching, horseriding, and daytrips to nearby places of interest.
"Menjangan Dynasty Resort is already slated to be the choice of savvy travellers who are seeking a totally different experience combined with outdoor activities and a high level of service. With more demand for boutique properties in secluded out-of-town locations, we are pleased to be opening at the right time in the right place," said Resort Manager, I Kadek Susastrawan (Dede). "We are very much looking forward to welcoming our first guests."
Menjangan Dynasty Resort opens its doors (or rather its tent flaps) on 1st September 2016, and will be celebrating its soft opening by offering special opening rates and packages to its guests via its website: www.menjangandynasty.com
Menjangan Dynasty Resort, Beach Camp & Dive Centre
Desa Pejarakan - Gerokgak, Buleleng, Northwest Bali, Indonesia 81155
Phone: +62 362 3355000 or +62 821 44022937
Fax: +62 362 3355800
Sales & Reservation: +62 361 753300
info@menjangandynasty.com
Please click HERE to download images.
--- End ---
About Prime Plaza Hotels & Resorts
Prime Plaza Hotels & Resorts since its establishment in 2003 has prided itself as being 'The Signature of Indonesian Hospitality' and on delivering genuine hospitality and service. Prime Plaza Hotels & Resorts now comprises eleven properties in both Bali and Java under three brands, Prime Plaza Hotels, Prime Plaza Resorts & Villas, and PrimeBiz Hotels. www.pphotels.com
Media Contact:
Agus Mahardana
Marketing & Public Relations
Phone: +62 361 752403
Email address: pr@bdr.pphotels.com
Previous
Menjangan Dynasty Resort Brings "Glamping" to North Bali
Next
The Groundbreaking of Menjangan Dynasty Resort